Saskia Frijns (1993) rondde haar bacheloropleiding viool af aan het Conservatorium van Maastricht en haar masteropleiding bij Elisabeth Perry aan het Utrechts Conservatorium, die ze in 2018 afrondde. Ook kreeg ze lessen van onder meer Maarten Veeze, Lei Wang, Eszter Haffner, Barbara Doll en Sarah Kapustin. Momenteel volgt Saskia de Master Applied Musicology aan de Universiteit Utrecht. Ook werkt ze als producent bij kamerorkest Heritage Sinfonietta en Grachtenfestival Amsterdam. 
Saskia speelde in onder andere het Metropole Orkest, Het Gelders Orkest, het Orkest van het Oosten, Kamerata Zuid, Sinfonia Rotterdam en het Nationaal Jeugdorkest (ook als aanvoerder tweede violen en co-aanvoerder).
Met het Nationaal Jeugdorkest werkte ze samen met onder andere het Residentie Orkest, de Nationale Opera en de Nederlandse Reisopera.
Als (orkest)musicus werkte Saskia met vele verschillende musici – van  Janine Jansen, Krzyzstof Penderecki, Xian Zhang en Antony Hermus tot Vince Mendoza, funkgitarist Cory Wong, zangeres Sharon Kovacs en trance-vocaliste Susana. Ze werkte mee aan nationale en internationale radio-, cd- en tv-opnames en speelde op festivals als Tomorrowland en Jazz Middelheim.
Sinds 2017 heeft zij een vast kamermuziekensemble, het Florestan Ensemble: een internationaal pianokwintet waarmee ze regelmatig concerten geeft.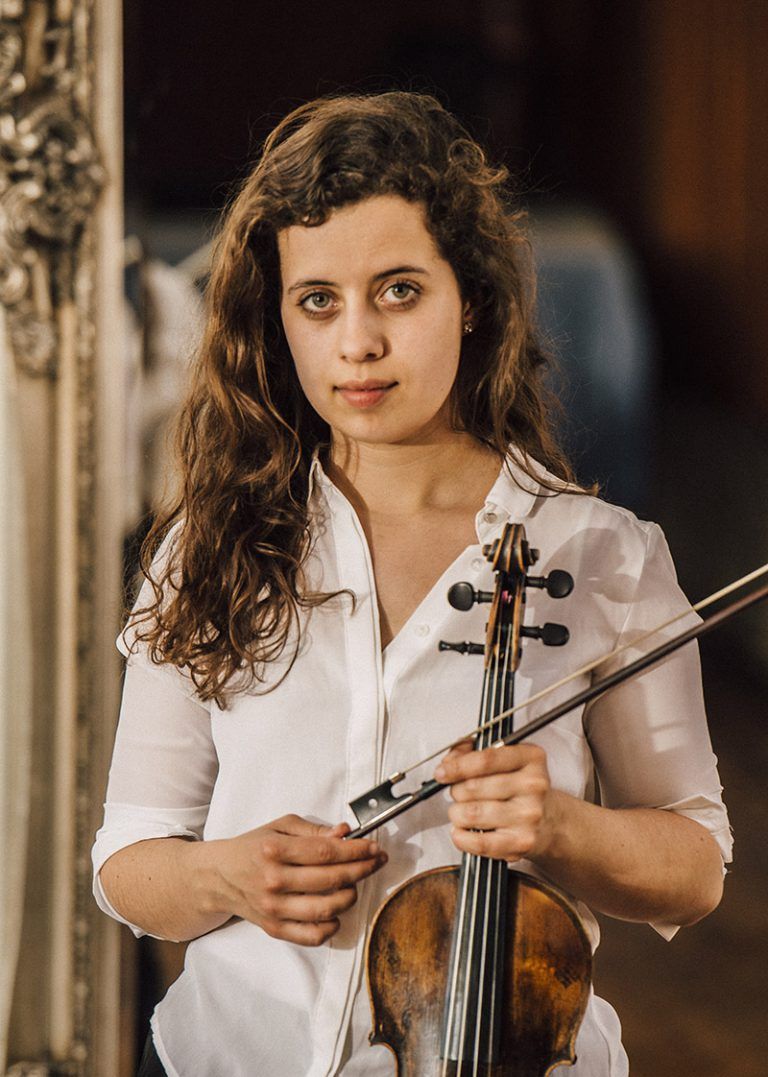 Saskia Frijns (1993) rounded off her Bachelor of Music of violin at the Maastricht Academy of Music, and studied with Elisabeth Perry for the Master of Music in Performance at the Utrecht Conservatory, which she finished in 2018. She also received lessons and masterclasses from, among others, Maarten Veeze, Lei Wang, Eszter Haffner, Barbara Doll and Sarah Kapustin. Currently Saskia is following the Master Applied Musicology at Utrecht University. She also works as a producer for chamber orchestra Heritage Sinfonietta and Grachtenfestival Amsterdam. 
Saskia played orchestras such as the Metropole Orkest, Gelders Orkest (Arnhem Philharmonic), Orkest van het Oosten, Kamerata Zuid, Sinfonia Rotterdam and the Dutch National Youth Orchestra (NJO), where she played in numerous projects, also as principal and co-principal. With the NJO she collaborated with a.o. the Residentie Orkest, the Dutch National Opera and the Nederlandse Reisopera.
Saskia has collaborated with various artists – from Janine Jansen, Krzysztof Penderecki, Xian Zhang and Antony Hermus to Vince Mendoza, funk guitarist Cory Wong, singer Sharon Kovacs and trance vocalist Susana. She has  collaborated in national and international radio- and tv- broadcasts and cd-recordings, and performed on festivals like Tomorrowland and Jazz Middelheim.
In 2017 she founded her own chamber music ensemble: the Florestan Ensemble, performing regularly in different venues.